Brillianize Microfiber Polishing Cloth - 12 Pack
$69.95
--
Large 14 x 16 inch Microsuede Cloths - 12 Pack
Purchase Brillianize Microfiber Polishing Cloth - 12 Pack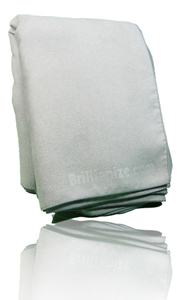 Brillianize Gray Microsuede Polishing Cloth
"When Appearance Is Everything"
12 - Large 14 by 16 inch gray microsuede cloths.
Bulk packed in zip closure bag.
Our ultra-soft microfiber polishing cloth is 80% polyester and 20% polyamide. This is an optical quality polishing cloth suitable for your highest quality products. Made from split fiber and woven for a super smooth finish it holds 5 times its weight in fluid, helping you work faster and get more work done. The edge is seamed with an over lock serge stitch to prevent fraying.
Use this cloth on cameras, lenses, LCD screens, computer monitors, acrylic furniture and fine art framing.
Purchase Brillianize Microfiber Polishing Cloth - 12 Pack
Other products in the category Cloths:


RELATED PRODUCTS


StoreFront
|
Bottles And Sprayers
|
Complete Cleaning Kits
|
Combination Packages
|
Cloths
Plastic Cleaner
Plastic Polish
Anti-static
Non-toxic cleaner
non-toxic polish
Brillianize Online Store powered by Nexternal
shopping cart software